September Private Advisory Board Member Guest Day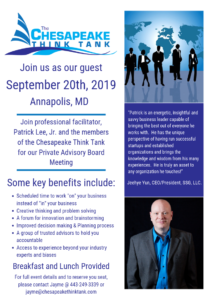 About the Chesapeake Think Tank
Small Business Advisory Board:
We consist of business owners from non-competing industries who come together to share their experiences, ideas, and knowledge to assist each other in overcoming their business challenges and helping each other grow. This is a non-pressurized, extremely supportive atmosphere.
Meet with our small business advisory board and other small business owners to discuss past experiences and ideas to help each other grow. To request a guest invitation to the next Member Guest Day, please contact Andrew or Theresa at 443-249-3339, email info@chesapeakethinktank.com or fill out the form to the right.
2018 Think Tank Private Advisory Board Holiday Retreat
April Think Tank Member Guest Day
January Think Tank Member Guest Day